Event Date:
Thursday, March 1, 2012

to

Saturday, March 3, 2012
March 1-3, Loma Pelona Center
University of California, Santa Barbara
With a major contribution from the Semnani Family Foundation and additional support from the Mellichamp Fund, the Iranian Studies Initiative at University of California, Santa Barbara hosts this international conference to provide a fundamental assessment of Iran's experience with constitutionalism. We hope this gathering of constitutional lawyers, academics, and journalists serves as a forum for in-depth, critical examination of the past and current Iranian constitutions, and also offers the opportunity to propose practical recommendations for the future. Presenters will examine the history of constitutional politics in Iran; frame key problems and constitutional issues from the last century; integrate fresh perspectives for addressing longstanding issues in Iran's legal history; and identify and develop resources for a better understanding of constitutional issues. Speakers will examine the constitutional challenges of a transition to a more democratic mode of governance and propose recommendations that could meet the needs of the Iranian people in the 21st century.
CONFERENCE PROGRAM
Hotel Information Campus Map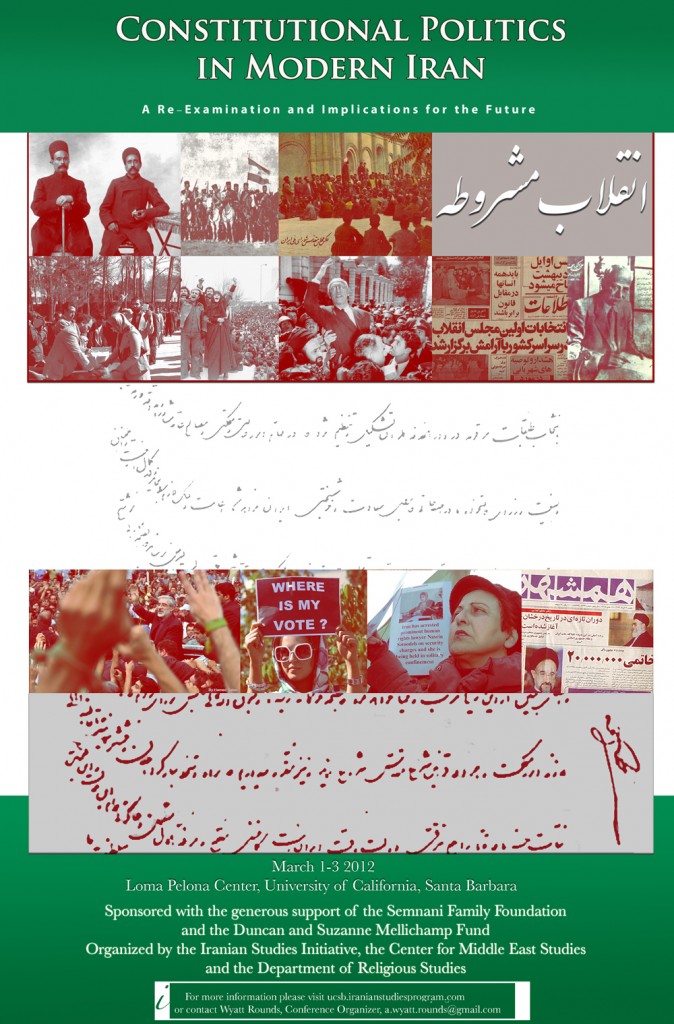 Janet Afary
Department of Religious Studies, UC Santa Barbara

Hamid Akbari
Northeastern Illinois University

Kazem Alamdari
Visiting Scholar, Department of Sociology, UCLA

Mehrdad Amanat
Independent Scholar

Kevin Anderson
Department of Sociology, University of California, Santa Barbara

Fakhreddin Azimi
Department of History, University of Connecticut

Sohrab Behdad
Department of Economics, Denison University

Houri Berberian
Department of History, California State University, Long Beach

Cyrus Bina
Department of Economics and Management, University of Minnesota (Morris Campus)

Farhad Cavard
École des Hautes Études en Sciences Sociales, Paris

Chahla Chafiq
Writer and researcher

Hiram Chodosh
S. J. Quinney College of Law, University of Utah

Stephanie Cronin
Faculty of Oriental Studies, University of Oxford

Manoutchehr M. Eskandari-Qajar
Department of Political Science and Economics, Santa Barbara City College

Shiva Falsafi
Department of Women's Studies, University of California, Los Angeles

Mateo Farzaneh
Department of History, Northeastern Illinois University, Chicago

John Foran
Department of Sociology, University of California, Santa Barbara

Mehrangiz Kar
Brown University

Houshang Keshavarz Sadr
Social Science Researcher

Abdol-Karim Lahidji
Iranian League for Defense of Human Rights; International Federation for Human Rights

Ali-Akbar Mahdi
Professor Emeritus, Department of Sociology, Ohio Wesleyan University

Chibli Mallat
S. J. Quinney College of Law, University of Utah

Afshin Matin-Asgari
Department of History, California State University, Los Angeles

Majid Mohammadi
Radio Free Europe / Radio Liberty

Dwight Reynolds
Department of Religious Studies, University of California, Santa Barbara

Amir Soltani
Journalist San Francisco Bay Area

Nayereh Tohidi
Department of Gender and Women's Studies, California State University, Northridge
March 1, 2018 - 2:18pm