Persian Language Learning at UCSB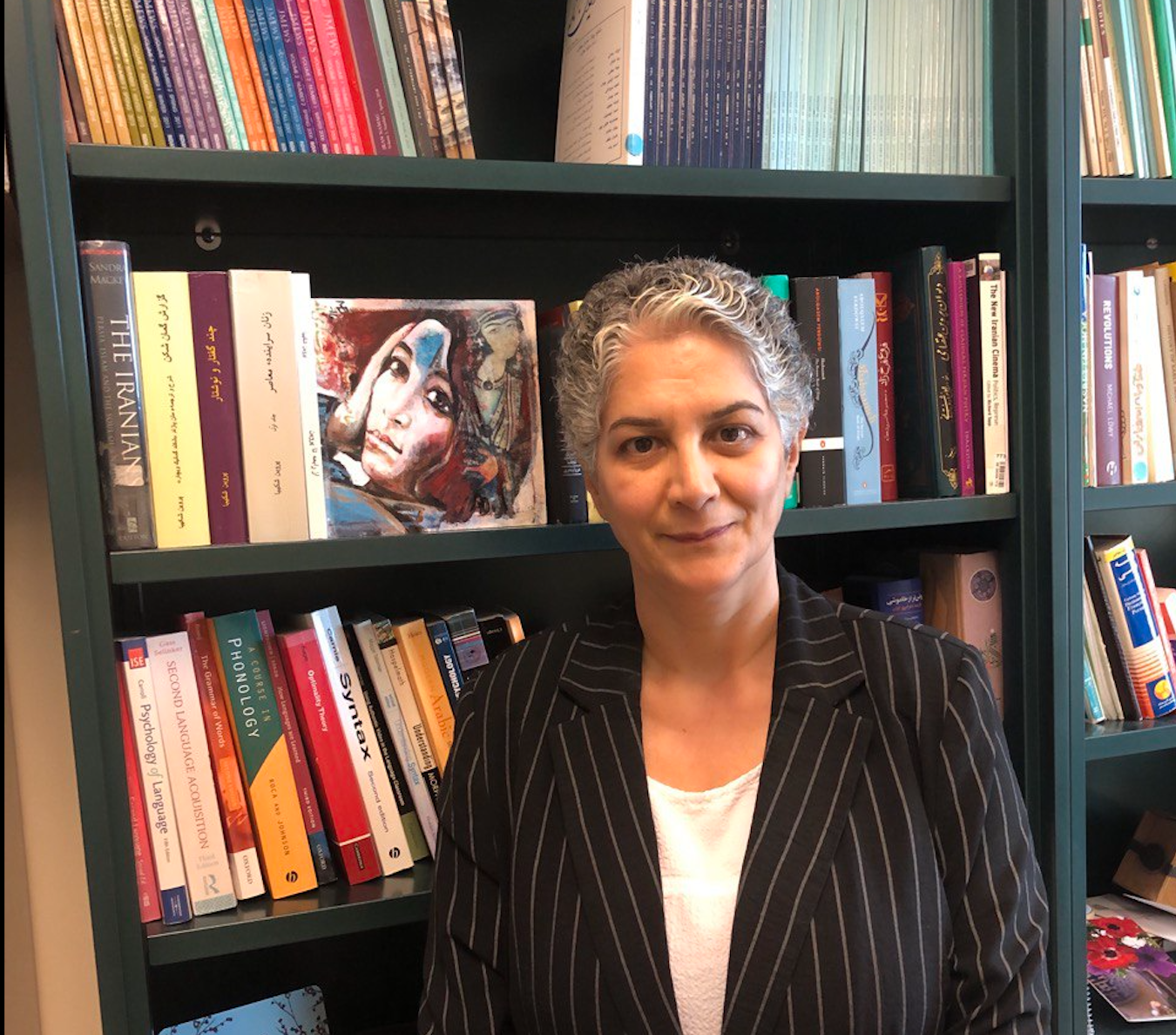 Today, in a friendly conversation with Dr. Azam Feiz about Persian Language instruction at the University of California-Santa Barbara, I asked her about the latest activities, courses, and events she has been involved with. The interview showed me how Persian language as a foreign language is taught especially in the United States. The encouraging and unique activities of Persian language instruction at UCSB motivates many of us to work in the field of Iranian studies and Persian language studies. 
In 2016, Dr. Feiz joined the Department of Religious Studies at UCSB where she has been a lecturer in Persian language.  Dr. Feiz received her Ph.D. in Linguistics from the University of Florida and obtained a certificate in Second Language Acquisitions. Significant progress has been made in Persian language classes in the seven years she has been working at UCSB. The number of courses, students, and events have increased remarkably, and hundreds of students have enjoyed learning the Persian language and its culture. She accepted me in her office, which was decorated with Iranian symbols and where our interview was conducted. 
Dr. Feiz, thank you for giving us your time. Please tell us about Persian language teaching at UCSB. How many students are currently learning this language, and at what levels?
In the first two quarters of this academic year, 121 Persian language students participated in our courses. They come from different levels and backgrounds, students without any Persian language knowledge, and heritage students. We expect this trend to continue in the spring 2023 quarter as well. We have two class series for students and determine their knowledge level and then classify them based on their knowledge and background. Students with no familiarity with the Persian language are placed in ordinary elementary classes (57 series) with no background, and students with previous knowledge of this language, such as those whose parents are Persian speakers, are divided into elementary, intermediate, and advanced levels of heritage classes. This year, in the Fall quarter, we attracted 16 students with no background in Persian language to our program.
 How are these people attracted to learning Persian?
We undertake many activities to encourage them. Persian is an attractive language which is spoken by a substantial number of immigrants to the US. In addition, Persian language has a rich cultural background. We also help students find out about our Persian language instruction through many cultural activities on our campus.
 What activities, for example?
We have regular cultural activities such as Persian poetry series and Persian movie night.  We  also celebrate Iranian holidays such as Yalda Night or Nowruz New Year in our program.  All of these events make our students at UCSB more familiar with Persian culture and language. 
You said that you had 121 students studying the Persian language in the current academic year. How many of them are at the elementary level, and how many are at the intermediate or advanced levels? Do they only learn the four basic skills of language, which are speaking, listening, reading, and writing?
We have 12 students at the elementary level who need to learn standard Persian and 49 at the intermediate and advanced levels. Our elementary-level students learn the four main language skills during the fall and winter. Although they also get acquainted with Persian music and poetry. But our 49 intermediate and advanced-level students study more advanced texts, such as reading magazines and articles. When they pass the intermediate level, and are ready to enter the advanced level, they can participate in courses such as Persian cinema, Classic Persian literature, Contemporary Persian literature, Persian Media, and Persian translation. 
 How interesting! So, Persian language studies are more than just teaching language. Is that right?
Yes! We provide an opportunity to get acquainted with the Iranian culture as well as language. This effort is not limited to holding the classes I mentioned.  For example, we have cooking workshops among other events in our lower division courses. We make traditional Iranian meals like Ghorme Sabzi (parsley and spinach stew) with the students.  The students enjoy the workshop and learn new things, as well as learn about Iranian foods. Or, for example, we sing songs together in classes. It is attractive for the students, and after the course, they choose to listen to Persian songs, and in this activity, those who are from Iranian heritage also better connect with their families. 
As a person who teaches this language innovatively, in order to make the learning process enjoyable for the students, what do you think are some of the shortcomings of teaching Persian in the Western academic atmosphere?
We do not have adequate professional Persian language resources for teaching. So we try to produce professional and attractive materials for the students. We use available resources and add our materials to teach language as well as we can.  I am in the process of publishing a text book, for example, which combines standard and colloquial Persian and is aimed at non-heritage language learners of Persian.  
What good news! So, we are waiting for your work to be published. Please tell us about the students' feedback from your classes. Are they happy to learn Persian?
 Yes! We have excellent evaluation reports. Most of the students and their families are satisfied. Sometimes my students' parents call me years after their child's graduation and thank me. This feedback is motivating and increases our passion for education. I am delighted that our students enjoy learning this language and relate to Persian culture.
What characteristics do you think a Persian language teacher should have?
They should be an expert in he field of Second Language Acquisition. They should know pedagogical grammar and also have second language teaching skills. Anyone who is a native Persian speaker may not be a good language teacher. This work requires skill and training. They should also have passion for teaching this language. 
Now that we know about the importance of language teaching, please give us your opinion about the importance of learning Persian.
There are nearly a thousand years of texts written in the Persian language worldwide. One of the biggest epic poetries in the world, The Shahnameh (Book of Kings) is in Persian. Still, Persian remains a less-commonly taught language. Why? Because we need expert professors and standard teaching resources to publicize this valuable heritage.
How do you see the future of Persian language education in general and at this university?
We are doing our best, and we have succeeded. In the last seven years, we have identified students who had no background in Persian, as well as heritage students, and have trained hundreds of them. Hopefully we will have even better results in the future. We need more opportunities to introduce the Persian language and to expand our courses. Three quarters language learning is required for undergraduate students and if we can introduce Persian language and provide materials for that, we can absorb more students. 
Thank you very much for your time. Do you have any additional comments?
Thank you. We offer a Minor In Iranian Studies with two tracks, for those who have taken our year of Persian and for those who have taken two years of Persian. For more details students should contact our academic advisor Kailee Lencioni (klencioni@hfa.ucsb.edu) in the Department of Religious Studies. I see a bright future for Persian language education as we try to introduce this beautiful culture and language to our student body.