Slavery and Sexual Labor in the Middle East and North Africa
In Memory of Ahmad Ali Gramian (1956-2018)
October 19th-20th, 2018
UC Santa Barbara, California, United States
The Fourth Annual Conference of the Iranian Studies Initiative will be held on Friday and Saturday, October 19th-20th, 2018 at the University California, Santa Barbara. The theme of this year's conference is Slavery and Sexual Labor in the Middle East and North Africa. Papers will be on a variety of issues dealing with slavery, concubinage, prostitution, indentured servitude or debt slavery, as well as the lives of orphans, divorced women, and widows in Iran, the Ottoman Empire, and the Persian Gulf areas.  Presenters and discussants will be looking at parallels and disjunctures between early modern and contemporary forms of coercive gendered labor practices and sexual servitude in the 19th and 20th centuries.
Please note that participation in the conference is free of charge and includes refreshments.
There will, however, be a dinner and performance by the Middle East Ensemble on Friday evening from 6:30-8:30.  Guests are asked to pre-register for $75 per person for the dinner.
Due to the limited seating available we ask that you kindly RSVP by October 12, 2018
We recommend that you arrive on Thursday evening, as our conference begins on Friday at 9:00 AM. If you wish to stay over Thursday and Friday nights, we suggest that you reserve a room at one of the following hotels:
?      Best Western Hotel, 5620 Calle Real, Goleta, CA 93117, (805) 967-3200, www.bestwestern.com/en_US/book/hotels-in-goleta/best-western-plus-south-coast-inn/propertyCode.05521.html
?      Pacifica Suites, 5490 Hollister Avenue, Santa Barbara, CA 93111,
(805) 683-6722, www.pacificasuites.com
?      Hyatt Centric, 1111 East Cabrillo Boulevard, Santa Barbara, CA 93103,
(805) 882-1234, santabarbara.centric.hyatt.com
?      The Kimpton Goodland, 5650 Calle Real, Goleta, CA 93117, (877) 480-1465, www.thegoodland.com
Please make your own accommodation arrangements. 
Location: Alumni Hall of the Mosher Alumni House, University of California Santa Barbara 
Directions: If traveling from the south, take US-101 North to CA-217, which will take you directly to UCSB. From CA-217, pass through Henley Gate and take the first right at the traffic circle onto Mesa Road. Then take a left onto University Plaza. The Mosher Alumni House will be on your left.
If traveling from the north, take US-101 South and exit at exit 107 (Los Carneros Rd.). Take a right onto Los Carneros Rd and then a left onto Mesa Road. From Mesa Road, take a right onto University Plaza. The Mosher Alumni House will be on your left.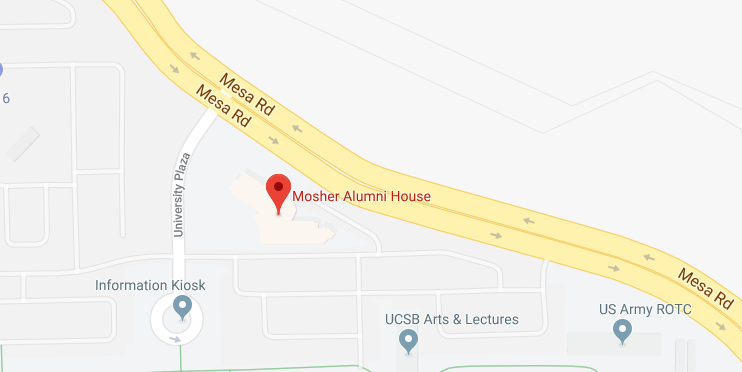 To pre-register for the conference, please contact:
Eric Massie, PhD Candidate
Conference Coordinator
With Regards,
Janet Afary,
Mellichamp Chair, Director,  Iranian Studies Initiative, UCSB
Manoutchehr Eskandari-Qajar
Director, Middle East Studies Program, SBCC
April 9, 2018 - 12:41pm