Event Date:
Monday, January 9, 2017

to

Tuesday, January 10, 2017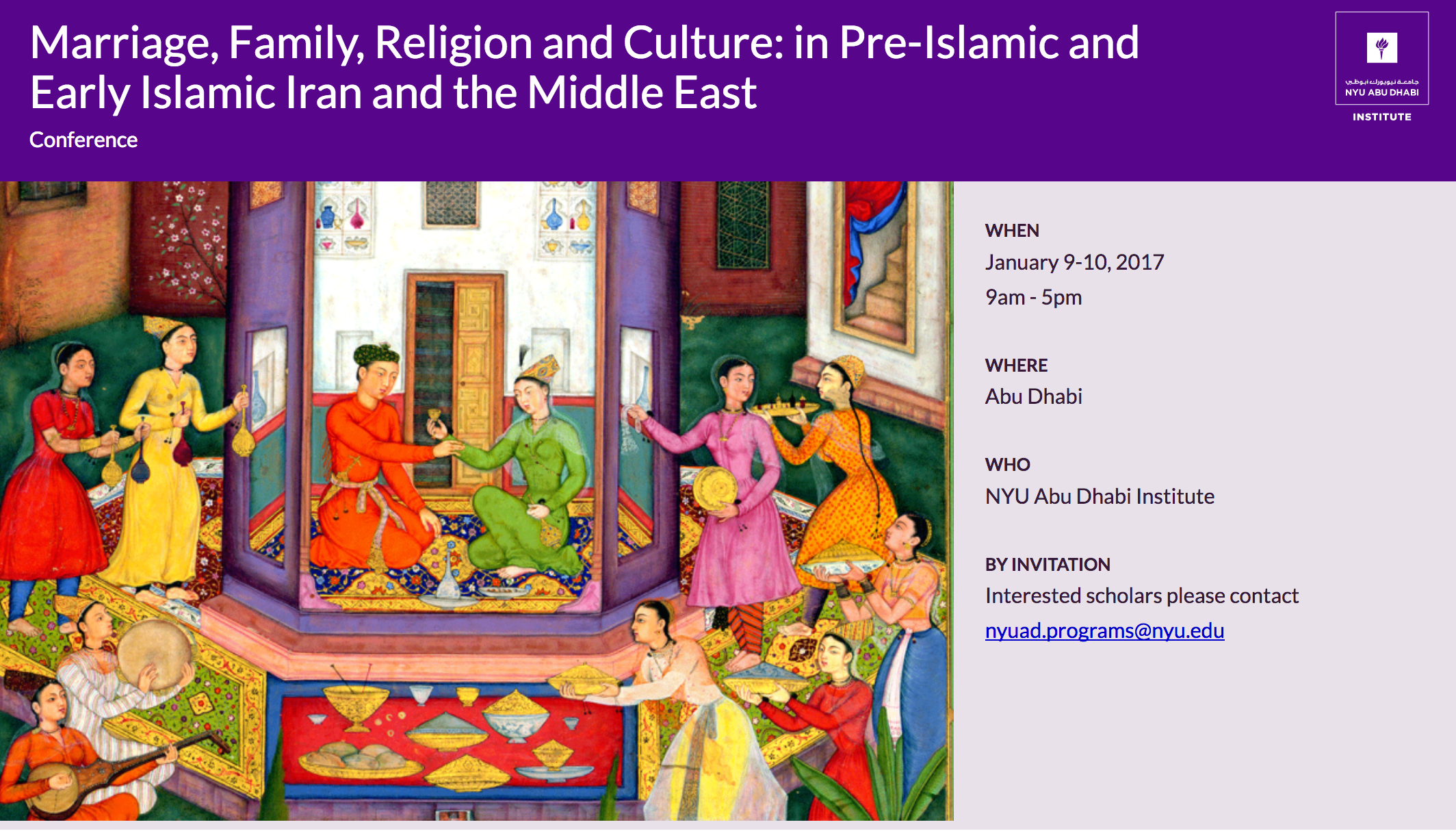 This gathering looks at marriage laws and practices in two formative periods of pre-Islamic Persian history, and early and medieval Islamic Middle East, in order to identify the various cross currents at work. Through the lens of marriage laws, it is possible to see how these communities interacted, intermarried, or resisted interacting with one another, in order to strengthen communal identities or secure communal boundaries. This conference is a truly historic inter-disciplinary event, with presenters sharing perspectives from the fields of Iranian and Middle East Studies and including scholarship from various disciplines such as History, Religious Studies, Gender Studies, and Literary Studies.
Video Recap
This is a video montage of a jointly sponsored New York University Abu Dhabi and UCSB conference held at Abu Dhabi on Jan 9-10, 2017.
The topic of the conference was, Marriage, Family, Religion and Culture in Pre-Islamic and Early Islamic Iran and the Middle East
The event was organized by Janet Afary and Claudia Yaghoobi (UCSB Phd and Roshan Institute Assistant Professor of Iranian Studies at UNC, Chapel Hill).
In addition, the following people from UCSB participated: Juan Campo (RGST), Ahmad Ahmad (RGST), John Lee (History), and Adam Sabra (History).
UCSB contribution was made possible with Mellichamp Funds and support from Gramian-Emrani Foundation.
Abstracts
Convened by
Janet Afary Mellichamp Chair and Professor of Religious Studies and Feminist Studies, University of California, Santa Barbara
Claudia Yaghoobi Roshan Institute Assistant Professor of Persian Studies, University of North Carolina, Chapel Hill
Hosted by
NYU Abu Dhabi Institute
In Collaboration with
Iranian Studies Initiative, UC Santa Barbara
Duncan and Suzanne Mellichamp Funds
Gramian & Emrani Foundation
March 1, 2018 - 12:52pm